Boiler Installation & Repair Services
MJK Mechanical provides services for everything from Hydronic, Steam Heating and more
Residential Boiler Installation & Repair
Experience reliable heating solutions with MJK Mechanical's specialized residential boiler installation and repair services. When faced with heating issues, opting for boiler repair is often the simplest and most cost-effective way to reinstate warmth to your space. This is especially true if your boiler is a recent model and a replacement might not be necessary. To ensure your boiler's continued efficiency, an annual servicing is recommended.  We reccomend that you plan ahead and schedule your boiler service during periods when heating specialists are more readily available. Ideally, the post-heating season, in spring or early summer, is the optimal time for boiler servicing. However, MJK Mechanical takes pride in offering emergency services for those in critical situations. Our skilled specialists are equipped with the expertise to guide you through different options that align with your residential needs. Once you make your decision, our team of professionals will expertly install your new boiler, ensuring optimal performance and safety. Dealing with boilers requires precision and knowledge, making a professionally trained installation your best choice. Reach out today to discover more about our services and take a step towards securing reliable heating for your home.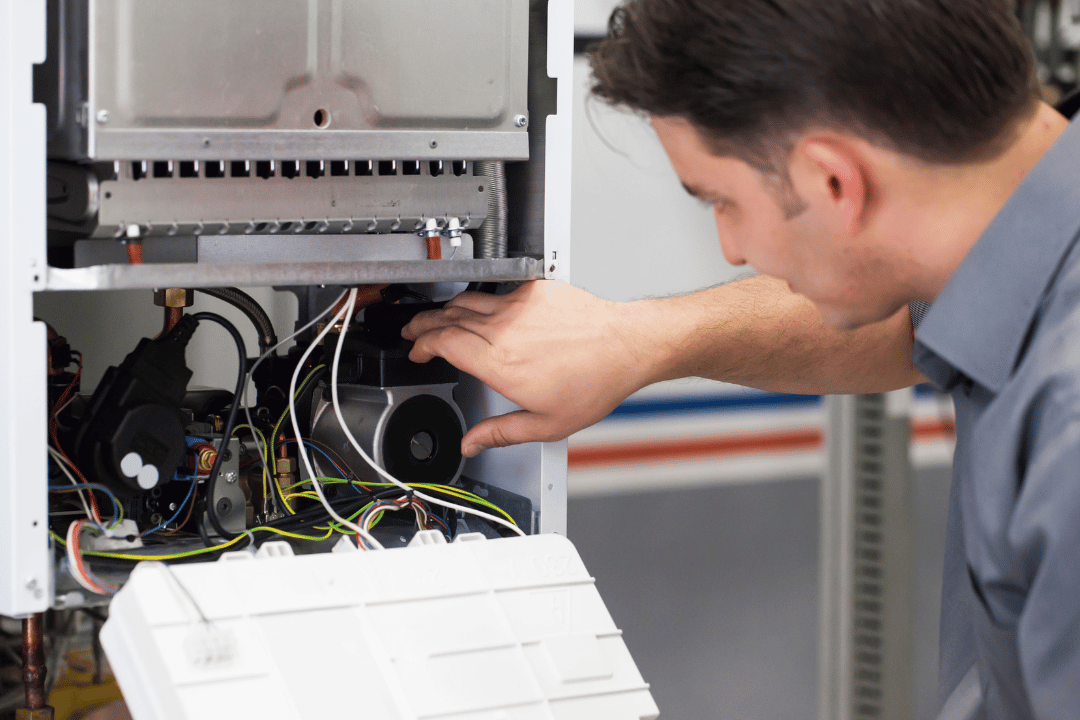 Get a Free Estimate!
Fill out the form and receive your free estimate!
Sectional Commercial Boiler Installation & Repair
The longevity of sectional commercial boilers can be challenged by factors such as thermal shock, pressure fluctuations, and the passage of time. The effects of age often manifest in cracks and structural weaknesses, contributing to the breakdown of these crucial heating components. Years of operation expose these boilers to rust and corrosion, gradually eroding key parts, pipelines, and even connections. Thermal shock, caused by rapid temperature changes, subjects cast iron to excessive stress and pressure, exacerbating the potential for cracks and damage. When your sectional commercial boiler succumbs to these challenges, the solution is often a replacement to swiftly restore heat and functionality. The accumulation of wear and tear over time might leave you unsure whether a repair or replacement is in order. In such cases, don't hesitate to reach out to us via phone or our contact form for expert guidance.
For instances where a new sectional commercial boiler is necessary, rest assured that MJK Mechanical has you covered. Our team of seasoned professionals is ready to provide transparent assistance in selecting the ideal options to suit your commercial space's needs. Making an informed purchase decision is pivotal, and we are dedicated to ensuring complete clarity throughout the process. Once your choice is made, our adept team takes charge of the installation, ensuring your new sectional commercial boiler integrates seamlessly and functions optimally. At MJK Mechanical, we understand that a well-operating heating system is essential for the smooth functioning of your commercial space. Whether it's repair, replacement, or guidance in selecting the right solution, we are committed to delivering unparalleled expertise and service excellence. Contact us today to take the first step towards securing the reliable heating performance your commercial establishment needs. Your comfort and productivity are our top priorities, and we're here to bring them to fruition.
CALL FOR A FREE ESTIMATE. 610.955.8997